New Kia Ferndale Area 2019 KIA Optima for Sale in Southfield, MI
Ferndale Area 2019 Kia Optima
Vehicle Overview
Thank you for choosing Glassman Auto Group. Glassman Auto Group has been serving Ferndale shoppers for decades now. Our goal is to ensure that all of our auto shoppers are happy. Glassman Auto Group is located about 15 minutes away from the Ferndale area. If you are shopping for a 2019 Optima near Ferndale, MI, you've come to the right place! Our friendly staff members would be happy to find the perfect 2019 KIA Optima for you.
The 2019 KIA Optima has a sporty style. This vehicle is very diverse. It can be suitable for a bachelor or a family. The Optima comes standard with exceptional safety technology. When shopping for your Optima, you will have the choice to choose from the base LX model, hybrid models, and the sporty SX model. With that being said, the Optima will be able to accommodate all budgets and needs.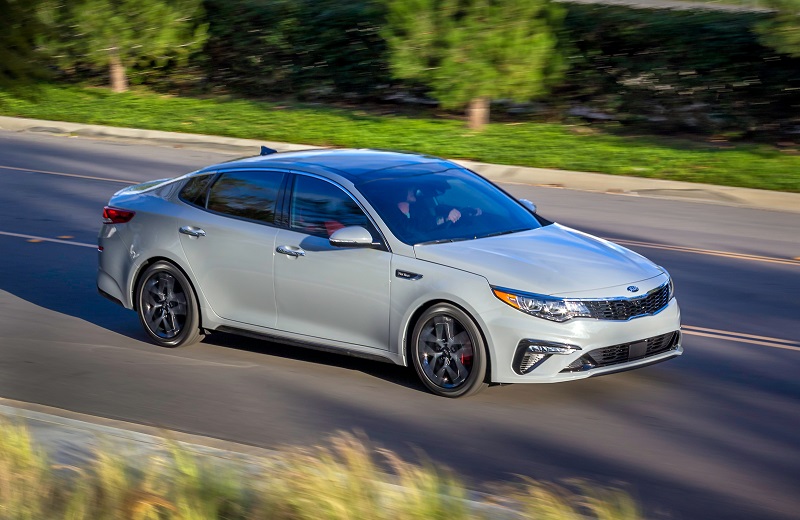 Exterior – 2019 Kia Optima
The KIA Optima is very stylish. The 2019 model has had a mini facelift, and it looks amazing! This year, KIA has decided to equip the Optima with vivid LED lights in the front of the vehicle. The 2019 model has an aggressive body style. It doesn't matter who you are, anyone who drives the Optima will feel empowered and fashionable.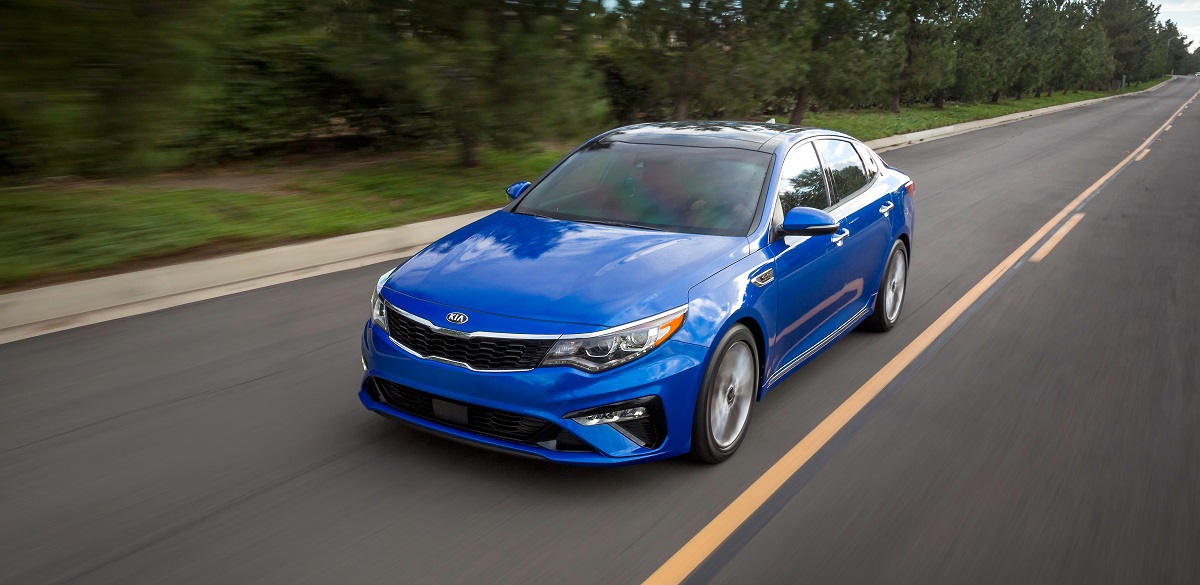 Interior – 2019 Kia Optima near Ferndale
The KIA Optima is able to hold 5 passengers. The interior of the 2019 Optima is to die for! This year, KIA has decided to equip the vehicle with European styled bucket front seats. These seats are very comfortable. They are perfect for long trips and family vacations. The Optima also comes standard with stain and odor resistant cloth seats; however, if you are willing to upgrade, you can choose leather instead. Speaking of upgrades, you also have the option of upgrading to equip your vehicle with a panoramic moon-roof. The Optima comes with a substantial amount of headroom in the front and rear of the vehicle. 6 foot passengers can easily fit and enjoy a comfortable ride in the Optima. If you are a music lover, you will love the Optima! The vehicle comes standard with Apple CarPlay. As a driver of the Optima, you can easily play music from your phone inside of your vehicle. When it comes to the telematics system, the Optima uses buttons for most of the vehicle's functions. This is a neat feature, using buttons makes it easier for drivers to use, instead of relying on a touch telematic system.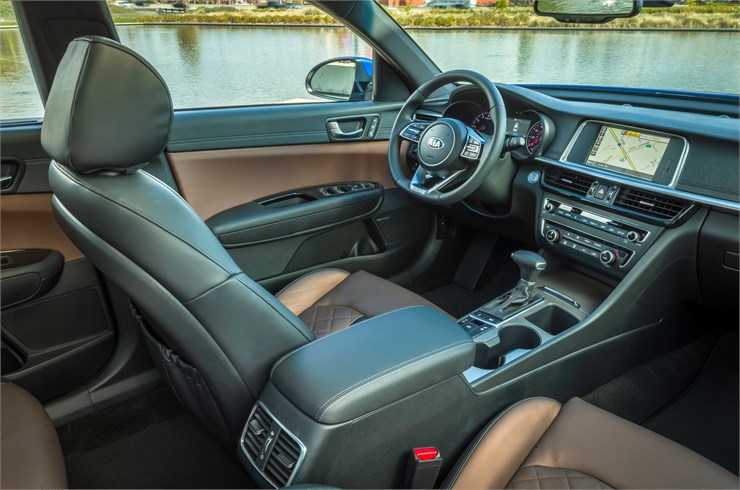 Powertrain – Kia Optima specs near Ferndale Area
This year, KIA is giving customers the opportunity to choose from 5 different Optima sub models. The Optima LX and S both come with a 2.4 liter 4 cylinder engine. This engine comes standard with a 6 speed automatic transmission. The EX model comes stand with a 1.6 turbocharged 4 cylinder engine. This model comes standard with a 7 speed dual automatic transmission. If you are into fast cars, then you should consider purchasing the SX model. This model has a turbo charged 2.0 liter 4 cylinder engine. This vehicle comes standard with a 6-speed automatic transmission; however, this model can generate a horsepower of 245 at 6,000 RPM. If you are looking for more modest models, you should consider the hybrid models. The Optima has two hybrid models. One of the hybrid models is a plug in vehicle. The other Optima model, the KIA Optima LX, gets 35 MPG. Both models come standard with a 2.0 liter 4 cylinder engine.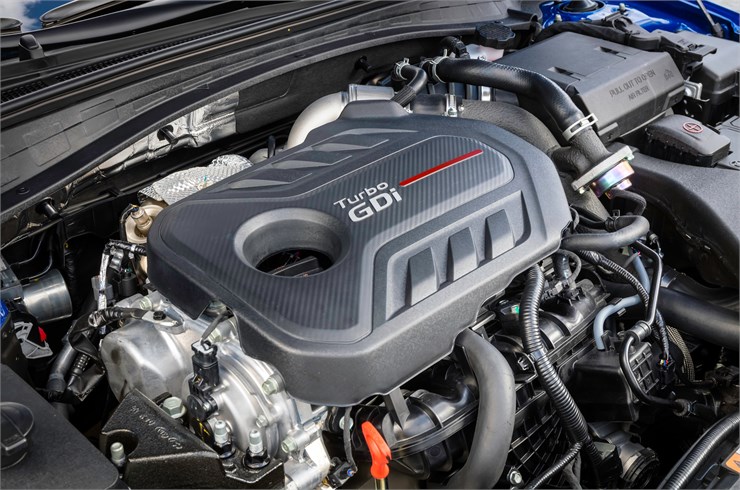 Mechanical – Kia Optima specs near Ferndale MI
The Optima is a vehicle that can be easily maintained. Depending on which model you choose, the torque for the Optima can range from 140-260 lb-ft at 4,000 RPM. The LX and S model vehicles can receive up to 33 MPG. The EX model can receive up to 37 MPG, and the SX model gets up to 30 MPG. If you can interested in the hybrid models, these models can get up to 46 MPG. The Optima is a fuel efficient vehicle compared to its competitors!
Safety – 2019 Kia Optima dealer
At Glassman Auto, we understand how important safety is to you; in fact, safety is the most important feature on the vehicle. We have been helping KIA drivers in the Ferndale area obtain safe vehicles for decades now! We will continue to make you proud, by serving Ferndale shoppers with safe vehicles. The 2019 Optima model has received a 5/5 on its crash test rating. This test was administered by the National Highway Traffic Safety Administration. The Optima comes standard with functioning seat belts and airbag protection for each passenger in the vehicle. With the Optima, you will also have blind-spot collision warnings, parking distance warnings, and rear cross-traffic collision warnings. Moreover, you will have lane change and lane keep assistance. All of these safety features comes standard with each model.
If you are interested in a 2019 KIA Optima near Ferndale, MI, please give us a call here at Glassman Auto. Our sales department are eager to help customers who are in the Ferndale area. Glassman Auto plans to continue to keep serving Ferndale shoppers for many decades to come. Please give our sales department a call: (888) 451-0949. You are also welcomed to stop by if you are in the area. We are conveniently located close to major highways: 28000 Telegraph Rd, Southfield, MI 48034.